For many, there's a specific vision attached to the swinger lifestyle. It's a perception, if you will, that cloudies up the swinger landscape and often delays or prevents people from exploring. These sometimes flat-out untruths typically derive from places such as mainstream media, Hollywood scripts, and that bizarre uncle who's always spinning yarns about all things.
Until you're solidly integrated into a swinger lifestyle, it's difficult to dissipate the fog. That's why we're here to help squash the embers of misguided flames before they overwhelm your senses and drive you away. This isn't to say that swinging is a cure-all bliss that's right for everyone and every couple – that's far from the truth; however, one shouldn't marginalize or disregard swinging based on any of these myths.
First, let's approach a rather obvious point before we break down these swinger misconceptions.
You're interested in swinging. That's probably why you're reading this article. If not, we apologize as we're sure there are other reasons, such as curiosity over a friend or relatives endeavor into swinging. But we know a lot of swinger curious read our content.
Being that what it is, we ask that you take a look at yourself and compare and contrast against these myths, or any others you've come across. What we're saying is, you can prove misconceptions based on your own self. If you're interested in a swinger lifestyle but don't fit these mythical traits, then that itself proves something. And because the swinger community is rapidly growing, you can imagine more out there just like yourself.
Swinger Age Misconceptions
The swinger lifestyle community and our website are both deeply entrenched in inclusivity and diversity. In fact, inclusivity remains a pillar of the community.
So don't take this section wrong when we say that swingers aren't always, or even often, old folks.
At risk of playing ageism cards, we'll say that there are old people who enjoy swinging. But mainstream life offers us perceptions that swingers are old, towel wrapped people surveying gym saunas nationwide.
One reason that swingers are sometimes older, maybe 30s and 40s, is because the older you get, the less you care about social and cultural restraints. But the idea that swingers are all in their 60s and beyond is untrue. The average age found in some swinger research suggest age ranges of 35 to 50. But in our experiences, we see 30s and 40s and sometimes, 20s.
Let's explore this a bit further. There's less occurrences of marriage in our 20s and more in our 30s. Marriage leads to divorce in almost half it's cases. A lot of swingers derive from marriages on the rocks. In other words, many couples look to leverage swinging as a way to improve their relationship. So given the math, we'd see more swingers at ages where marriage has taken foot for at least a few years.
But swingers aren't a geriatric community living in a van. I think we've made our point.
Swingers and Safe Sex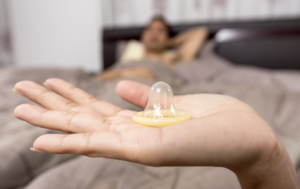 This swinger lifestyle myth isn't only untrue, it's offensive, and maybe ironic.
The idea that STDs run rampant in swinger communities is based on no research or data, only the idea that swingers have more sexual partners.
But that's not how any of this works.
First, its a myth that swingers have more sexual partners.
Say what?
Yes, we said it, swingers aren't necessarily having sex with more people than non-swingers. We mentioned high divorce rates earlier. Affairs are a massive cause of divorces. Married men galavanting their way through Vegas casinos at 3AM isn't a myth – simply go to Vegas.
Second, swingers are people who also decide their risk versus reward tolerances no different that the guy looking to pick up a woman in Vegas, or a single person at a happy hour bar, or a woman who finds physical fondness in her male or female coworker.
Third, swingers have a supreme advantage in one of the core competencies to preventing STDS, which is communication. The swinger lifestyle relies on communication as a mainstay craft. You must communicate your needs, boundaries, desires, in order to participate. And part of that communication is your comfort with another person and how you desire handling STD prevention.
The point is in swinging we find people more upfront about communicating their boundaries and even sexual history, which helps prevent STDs.
That said, we do love Vegas. But you get that.
Swingers Sex Lives
Not entirely true. But there could be a peppering of truth to this.
The idea of adding another person to a physical relationship is, in itself, kinky.
But beyond that, many swinger lifestyle participants aren't attempting asphyxiation from hotel chandeliers as a group of masked couples draped in leather skimp watch.
Swingers are the same as everyone. They could enjoy a good kink session, or they may prefer it more vanilla. The only main change about swinging is the addition of people. Could entering the swinger community cause someone to pursue some of their deeper kinks that they felt less comfort exploring prior? Absolutely. But that would happen if the person met a monogamous partner who was open and communicative and supportive regarding those desires. In other words, swinging isn't the hook into kink, openness and support are.
Women and The Swinger Lifestyle
This idea is, at its core, sexist. The swinger community is the anti-patriarch. Women reap plentiful pleasures from the swinger community. And in fact it is often the wife who desires the relationship overhaul into swinging. Of course, this probably feels anecdotal. But rest assured, if you do make the pilgrimage into the swinger community, you'll experience this yourself.